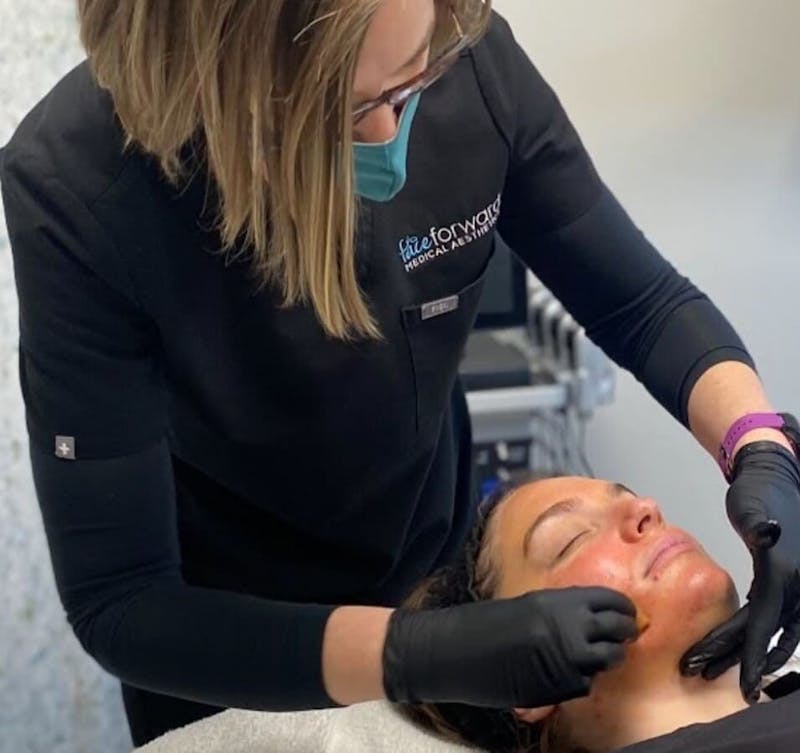 One thing we love here at Face Forward Medical Aesthetics is a treatment that's effective and doesn't require a lot of downtime. Which is why when it comes to skin care concerns like acne, melasma, and sun spots, we often recommend VI Peels. This is one of the best chemical peels available right now, and we'd like to give you the information you need to decide if VI Peels might be right for you.
The Vitality Institute in Los Angeles, the maker of VI Peels, is behind some favorite skin products of celebrities, models and beauty editors, but you certainly don't have to base your skin-care decisions on their say-so. Having used the VI Peel in our office, we can tell you first hand that we have seen impressive results in our patients. And you can see for yourself in the before and after VI Peel photos below.
In addition to VI Peels, Face Forward is pleased to offer a VI Derm Lift & Repair Pigment Skincare Set, so you'll continue to see clear, bright, even-textured skin at home, too.
What Is a VI Peel?
VI Peels are the next generation of chemical skin peel. A chemical peel uses a combination of ingredients to exfoliate the outermost layers of your skin. This process triggers the growth of new skin cells and production of collagen and elastin, which improve the texture and elasticity of skin. With those top layers of skin removed, you begin to see an improvement in melasma, sun spots, acne, acne scars, and fine lines.
With typical chemical peels, this process makes a patient endure days of scaly, peeling skin, followed by more days of redness and irritation. This is the difference between VI Peels and all the rest: In addition to exfoliating chemicals like salicylic acid and trichloroacetic acid, it contains vitamin C, minerals, and retinoic acid. The peel ensures that those nourishing ingredients penetrate deep into the skin, encouraging rapid healing.
What this means for you is that VI Peels are virtually pain-free, require very little downtime, and you'll see results in as little as seven days.
What Is VI Peel Good For?
We offer different VI Peel treatments that improve several types of skin issues. A VI Peel can be effective in reducing sun spots, melasma (hyperpigmentation), age spots, acne, scars, fine lines, and other signs of aging.
Though many people tend to think of chemical peels as being only for the face, a VI Peel can also be effective on other parts of the body, which makes it an excellent treatment for keratosis pilaris (a.k.a. chicken skin).
According to the Vitality Institute, VI Peels are safe for treating darker skin tones without the side effect of discoloration. If you are at all concerned about this, talk to our staff about whether a VI Peel is right for you.
Which VI Peel Treatment Is Right for Me?
Our two most popular VI Peel options are the VI Peel Precision Plus and the VI Peel Purify with Precision Plus.
The VI Peel Precision Plus is ideal for any kind of skin discoloration, including:
UV-induced pigmentation

Sun damage

Melasma

Post-inflammatory hyperpigmentation



The Precision Plus is a medium-depth peel, reaching the layers of skin where pigmentation occurs and delivering ingredients like hydroquinone, phenol, and kojic acid to prevent the production of excess melanin in skin cells. This peel also promotes cell turnover, leaving you with an improved skin tone, sometimes within seven days.
The VI Peel Purify with Precision Plus

VI Peel Precision Plus combats pigmentation with our Lighten Booster and fast-acting Brighten Booster. This powerhouse formula effectively suppresses melanogenesis (the production of pigment) and promotes rapid cell turnover for improved skin tone.



The VI Peel Purify with Precision Plus is the best peel to treat:
Excessive oil

Acne with hyperpigmentation

Acne scarring

Adult acne
This peel exfoliates the skin, clears clogged pores, and reduces the bacteria, inflammation, and sebum production that can cause acne to form. Meanwhile, the peel also addresses the scarring and hyperpigmentation that acne can leave behind, using ingredients that brighten the skin and stop excess melanin production. Finally, this treatment also promotes skin cell turnover, for a smooth supple skin texture.
Try the VI Derm Products Bundle
As we mentioned before, skin care is a journey, and you may also want to have your own fantastic at-home VI Derm products to help you along the way. The Lift & Repair Pigment Skincare Set includes four full-size hero products that repair skin, increase cell turnover, and erase pigment.
These are:
Retinol Age-Defying Treatment Moisturizer: By promoting skin-cell turnover, this skin resurfacing treatment lifts pigment, stimulates collagen, and helps fade fine lines and wrinkles.

Hydroquinone 4% Skin Lightening Complex: This prescription-strength dark spot corrector suppresses pigment at its source.

Vitamin C Brightening Concentrate: Tetrahexyldecyl Ascorbate is a form of vitamin C that reaches deeper into the skin's layers than other types of vitamin C. This antioxidant reduces free radical damage from UV rays and promotes collagen synthesis for smoother, glowing skin. This serum also contains Cyclopentasiloxane, which plumps up the skin, reducing the appearance of lines and wrinkles.
Retinoic Serum: This is prescription-strength retinoic acid to help reduce the signs of aging in the skin by promoting cell turnover, lifting pigment from deeper skin cells, and stimulating collagen production.


How Many VI Peels Will I Need?
For a typical VI Peel regimen, we recommend starting with three peels, spaced four weeks apart to achieve your desired results. Then you may want to maintain that great skin by getting a peel every season. Skin care is not a one-and-done event; it's an ongoing journey.
If this is your first time coming to Face Forward Medical Aesthetics, before you get a VI Peel or any other treatment, you can get a complete — and completely free — skin consultation with the VISIA Skin Analysis system. This will help us determine what your VI Peel treatment will look like.
What are you waiting for? Let's book that consultation right now!