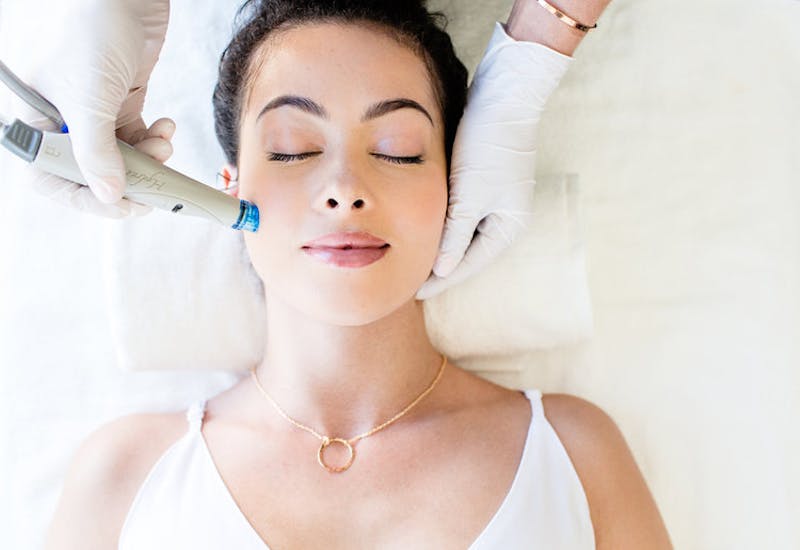 If you have acne-prone facial skin, it can feel like you're constantly dealing with a new breakout. When your face is covered in those little red, tender bumps, it can be uncomfortable and embarrassing. However, you may have more options to prevent these frustrating acne breakouts than you realize. There are many facial treatments that can be quite effective for reducing acne, and we have several of them available at Face Forward Medical Aesthetics. Here, we'll look at a few of the best treatments to try if you have acne-prone skin.
1) HydraFacial
HydraFacial is not only one of the most popular facial treatments for overall skin rejuvenation, but it's also a wonderful treatment for acne-prone skin. The HydraFacial treatment involves completely cleaning and resurfacing the facial skin, leaving your skin nice and smooth with a glowing complexion. One reason this treatment effectively reduces acne breakouts is its thorough extraction of your pores. During the treatment, a unique vortex fusion suctions the oil, dirt, and dead cells from your skin, which makes it much less likely for acne to develop. Plus, the high-quality serums applied during a HydraFacial contain antioxidants, peptides, and essential oils, which can reduce inflammation and kill the bacteria responsible for causing acne.
2) Medical Facials
At Face Forward, we also offer Medical Facials, during which the facial skin is treated with professional skincare tools and specialized, medical-grade skincare products. These facials, which are entirely customized to meet the needs of each patient, utilize extremely powerful products to clean, hydrate, and smooth the skin. Much like HydraFacial treatment, our Medical Facials remove several elements most likely to cause acne breakouts. Plus, they leave your facial skin feeling soft and looking vibrant.
3) LED Facial
The LED Facial is a unique type of facial treatment worth considering if you have acne-prone skin. This specialized treatment utilizes a combination of white, red, and blue infrared light. These lights target the tone, collagen, and bacteria in the skin, improving its overall health and complexion and reducing the likelihood of new acne breakouts. This type of facial is explicitly designed to eliminate active acne, and it's an excellent treatment for people with sensitive skin.
4) Decongesting Facial
If your skin is unusually susceptible to acne breakouts, it could be partially due to your pores clogging with oil, dirt, and bacteria. When these things build up in the pores, it creates a breeding ground for new acne. The Decongesting Facial is a treatment that primarily aims to unclog the pores. By clearing or "decongesting" your blocked pores, this facial will remove the most important ingredients needed for acne breakouts. This treatment also has a resurfacing element, dissolving the outer layer of skin to allow the smoother, healthier layers to shine through.
What Is the Takeaway?
Experiencing regular acne breakouts can be extremely frustrating, but it's important to realize that excellent treatments are available for people with acne-prone skin. At Face Forward, we offer a variety of facial treatments and other skincare procedures that can replenish your facial skin. Our aesthetic professionals will work closely with you to help you restore your self-confidence and achieve a healthy, glowing complexion. If you're ready to start the journey toward beautiful, acne-free skin, contact us today to book an appointment.